Over the last few months we have pulled 4 grey mastiff type dogs from the South LA shelter.   Just a few shades off from our normal black dogs but these boys really needed us.
Big Daddy was a hunka burning love that we couldn't pass up.  He's been adopted into a great family that is totally spoiling him and WE LOVE IT.
And by now most of you know Gumdrop, now known as Sherman.   He was officially adopted by his fosters on 8/29/16 and is taking Facebook by storm.    Everyone wants to squish that face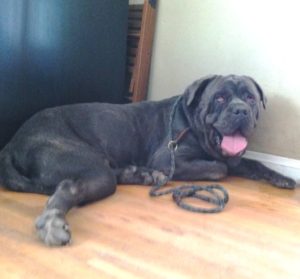 And now we'd like to introduce you to Rio.   He's two years old and is recovering from double eye surgery.   He's very withdrawn and timid but we know that his foster home is going to give him the confidence to see the world through his new eyes and he's going to love what he sees.
Our newest rescue is a 3 month old pup we've tentatively named Daniel.   Daniel has a congenital defect of his front right leg.   He came into the Squad yesterday, 9/3/16, so we still don't have a medical plan.   But we will within a few days and he's going to be a happy pup.   Hang in there Daniel.   We will get you fixed up in no time!