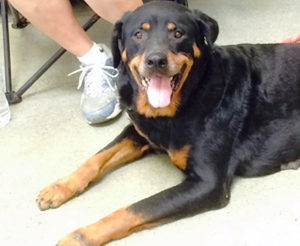 Look at the smile on Marnie's face!   You can tell she is one happy, happy young lady!
When we got her, however, it was a whole other story.
She and her pal Jimmy had been left behind when their person was evicted from her home.    She had no idea what to do when we put a leash on her and she was terrified of going through the house to get to our car.
But once she found out how much fun it was to be in Dawg Squad, she perked right up.
Marnie discovered people who hugged her and pet her and gave her treats.   She now trots nicely right next to you on leash and is ready to learn more every day.
This gal has been through a lot in her first 5 years.  The next years are going to be awesome!   Be a part of Marnie's new life!
Purebred: Yes

Sex: Female

Altered: Spayed

Color: Black & Tan

Weight: 80 pounds

Age: 5 years
Behavior: Willing to please

Good with children: Yes

Good with dogs: Yes

Good with cats: Probably

Special Needs: No

Additional Information: Up-to-date on shots
Have Questions?
Contact Us:
E-mail: dawgsquad@rocketmail.com
Phone: 310-674-0477
Dawg Squad Animal Rescue,
Los Angeles, CA