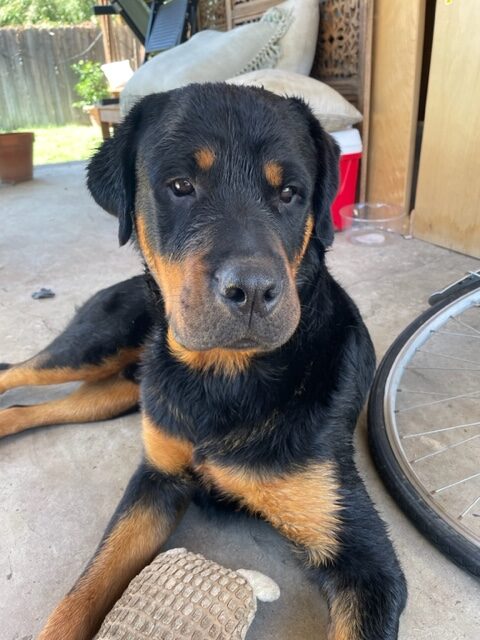 Zazu
When your vet tells you your new Rottie is a really nice dog your ears perk up and your heart smiles. Rotties are not his favorite breed to work on.
Zazu is 9 months old and a stage five clinger. Wherever you go, he goes.
He's a sensitive boy and only needs to be told "no" once – excessive scolding and physical correction are not recommended. He walks quite well on a leash and loves other dogs, but doesn't know his own size and can play rough. He does take correction well from his play companions.
Previous owner stated he's lived with children as young as 1 yr old, but I haven't seen him interact with children and wouldn't recommend any humans young enough to be accidentally squished.
Not food driven. Loves fetch. He also loves water and his big ball.
Even though he wants to be in the same room with you at all times, he is capable of entertaining himself a ball or stuffie.
Zazu is very well behaved and will play with you all you want OR will chill out if you need to work, watch TV or just hang with a human.
Needs a foster!