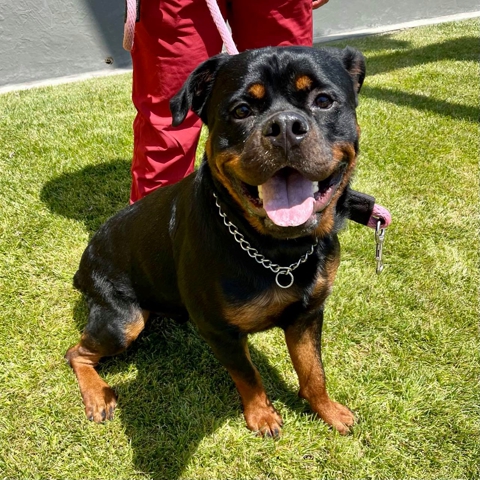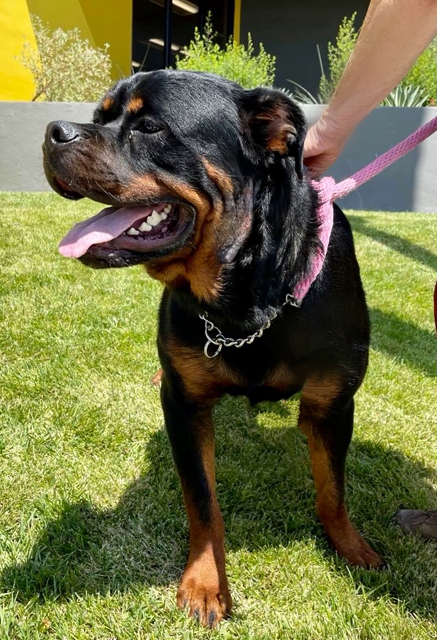 This hunk of a pup is gentle, thoughtful and very social.
Quito was in an apartment with another male Rottie and two children (and of course, their parents).   The landlord was not having two Rotties in one apartment and gave the family the ultimatum of getting rid of one or moving.    And so Quito joined the Squad.
He is genuinely a nice dog.    He's got a goofy smile and a big block head.   He does pull some on leash but he should get over that with some training.
Quito's a snuggler.  Be prepared for that big head to be in your lap.
He does have some dry skin issues but he is on medication for that.
You don't want to think about this too long.   He's pretty awesome
Sex: Male

Altered: Neutered
Behavior: Very sweet

Good with children: Yes

Good with dogs: Yes

Additional Information: Up-to-date on shots
Have Questions?
Contact Us:
E-mail: dawgsquad@rocketmail.com
Phone: 310-674-0477
Dawg Squad Animal Rescue,
Los Angeles, CA