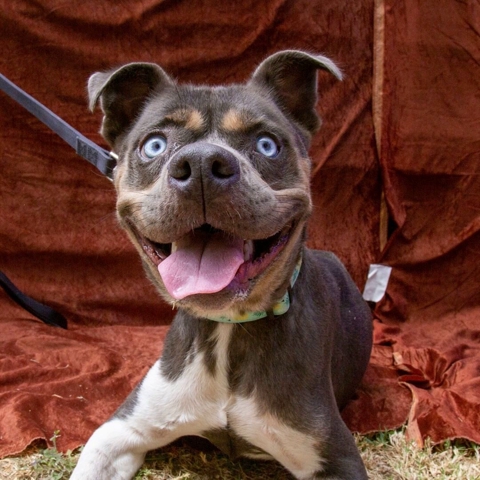 Look deep into my eyes! You see you adopting me and taking me home, right?
Ilsa was very sick and hats off to the Long Beach shelter for going the extra mile and taking care of her. Among other things, she had sepsis and it was touch and go for awhile.
But the minute they said she was well enough to get out of there WE WERE THERE!
Ilsa is amazing. She rides nicely in a car, know commands (including roll over), is OK on leash and is very polite when meeting new dogs. She's really a very good girl.    She is unique looking and has a sweet personality
Appointments for meet and greets are scheduled after receiving the application
Purebred: No

Color: Gray, tan and white
Behavior: Very sweet

Good with children: Yes

Good with dogs: Yes

Additional Information: Up-to-date on shots
Have Questions?
Contact Us:
E-mail: dawgsquad@rocketmail.com
Phone: 310-674-0477
Dawg Squad Animal Rescue,
Los Angeles, CA