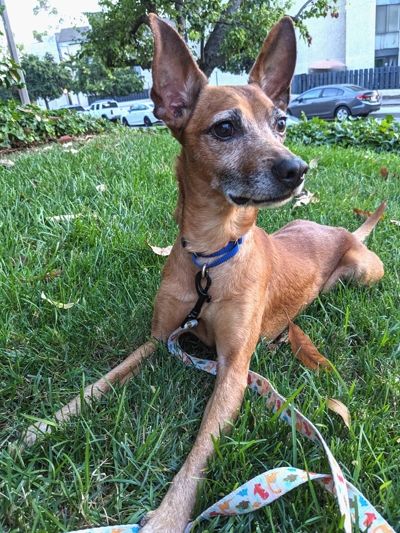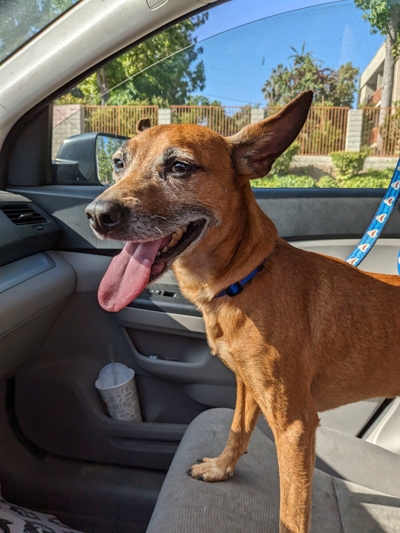 Copone
Are you looking for a furry friend who comes with a heart full of love and a wagging tail? Look no further because Copone is the dog you've been waiting for!
This 6-year-old, 20 pound pup can't wait to share his life with you.
Copone's journey began when he was surrendered to a shelter in June. Fortunately, he found a temporary foster home for the 4th of July, and after a brief visit back to the shelter to treat an upper respiratory infection, he never looked back. Now, he's eagerly seeking his forever home and someone to shower with unconditional love.
He absolutely loves going on walks, hikes, and runs, and his enthusiasm will surely bring a smile to your face. Be prepared for some excitement in distracting environments, but fear not, as he quickly calms down once back home, enjoying peaceful moments until the next outdoor adventure.
One of Copone's simple pleasures in life is rolling in grass. Seeing him joyfully frolic in the green fields will warm your heart and remind you of the pure happiness that can be found in the little things.
This lovable pup is crate trained, making him feel safe and secure in his own space. He's also potty trained, so you can trust him to do his business outside without any worries.
Copone reacts excitedly to other dogs. As for cats, he mostly ignores them, making him a potential candidate for households with feline friends, as long as the introductions are made slowly and carefully.
But that's not all! Copone is a quick learner and knows a few basic commands. His treat-motivated nature and love for hot dog treats will make training sessions enjoyable and rewarding for both of you.
When it's time to wind down, Copone transforms into a cuddle bug. He adores snuggling up with his human, basking in the warmth of affection. Whether it's cuddling on the couch or sharing your bed, he'll be your loyal and loving companion through it all.
If you're ready to give a dog a forever home, Copone is the one for you. His heart is full of love, and he's eagerly waiting to embark on a new journey of companionship and joy with you.
Copone is an Outreach dog meaning we are helping his rescuer find him a home.