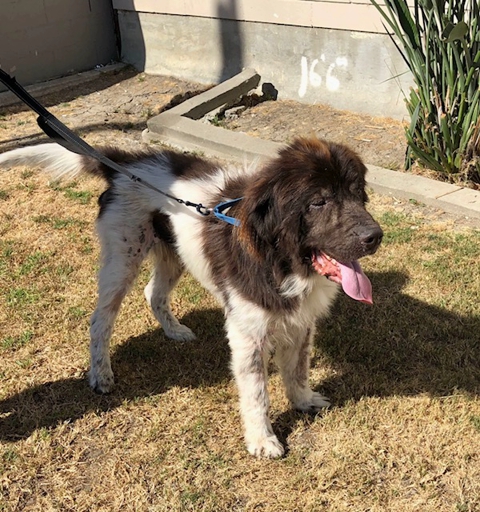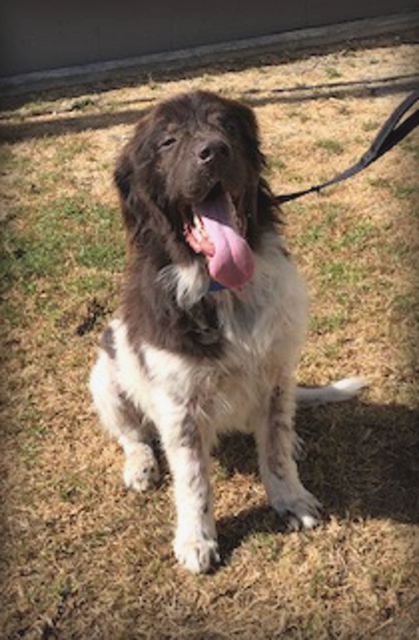 We discovered Abbott at one of the Los Angeles City Shelters and quickly went to pick up this guy.
He is covered in demodectic mange, flea dermatitis and some nasty yeasty skin infections. He is at least 20 pounds underweight. BUT all of this is fixable and it certainly hasn't affected his personality.
Newfies can be aloof with people, but not Abbott. The closer he can get to you the better. He is gentle and loving and will be a great cuddler. And he is not a prolific drooler.
Very non-reactive to other dogs (big and small) that passed him by on leash. His posture remained relaxed and he was more interested in interacting with his handler.
Abbott does pull on leash but is easily corrected. He is bilingual and responds to commands in both English and Spanish.
It is going to take at least a month to see any improvement in his skin and more likely 4-6 months. Our vet said if he shaved all the spots that were affected, we would have a naked dog.
Don't let it bother you….it doesn't bother Abbott.
Sex: Male

Altered: Neutered once skin is healing
Behavior: Very sweet

Good with children: Yes

Good with dogs: Yes

Special Needs: Yes – medication for his skin

Additional Information: Up-to-date on shots
Have Questions?
Contact Us:
E-mail: dawgsquad@rocketmail.com
Phone: 310-674-0477
Dawg Squad Animal Rescue,
Los Angeles, CA