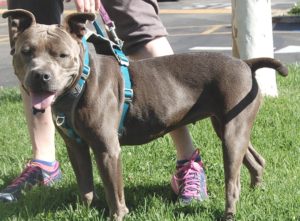 This is without a doubt one of the best dogs we have ever rescued.
She is kind, quiet, great with dogs of all sizes, ignored a cat and asked a child for belly rubs
She's also the perfect size…..36 pounds….a mini pittie.
We keep pushing her to see what will annoy her….so far nothing.
I'm in love with this dog. Someone please adopt her quick because I do NOT need another dog. Nope….I don't…..really……
Behavior: Very sweet

Good with children: Yes

Good with dogs: Yes

Good with cats: We think so

Additional Information: Up-to-date on shots
Have Questions?
Contact Us:
E-mail: dawgsquad@rocketmail.com
Phone: 310-674-0477
Dawg Squad Animal Rescue,
Los Angeles, CA