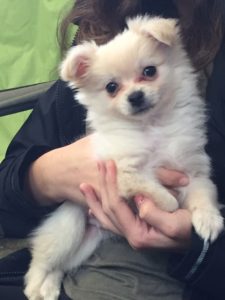 Sylvester was one of several pups being handed out without adopter vetting so we jumped in and took him, the last one.   (We found out about this through a very long grapevine)
He is all puppy.   Bouncy, playful, goofy and always ready to be held.   He is barely 3 pounds but is not afraid of even the biggest dog….he's great friends with the Shepherd pictured above.
Sylvester has had two sets of shots and will be neutered prior to adoption.
We are taking applications and arranging meet and greets now but he will not be adopted out for at least another few weeks when he is big enough to be neutered.
Breed: Maltese/Pomeranian

Purebred: No

Sex: Male

Altered: Neutered prior to adoption

Color: Cream

Weight: 2.5 pounds

Age: 10 weeks
Behavior: Bouncy

Good with children: No

Good with dogs: Yes

Good with cats: Yes

Special Needs: No

Additional Information: Up-to-date on shots
Have Questions?
Contact Us:
E-mail: dawgsquad@rocketmail.com
Phone: 310-674-0477
Dawg Squad Animal Rescue,
Los Angeles, CA