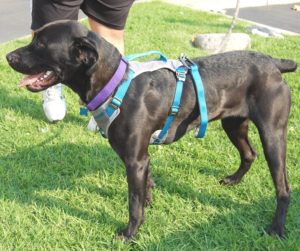 Ripley was being given away on Craig's List so one of our fosters jumped in and rescued her before anything bad could happen.
This is NOT an entry level dog. Yes, she is dog friendly (with most dogs), adorable, goofy, willing to please. BUT she is also an untrained 8 month old, 70 pound puppy who has no concept of her size or strength.
We are working with her and she is catching on quickly but, as with all pups, she is easily distracted.
Ripley is going to need a disciplined owner who will give her consistency and structure. Trained properly, she is going to be awesome.
We cannot adopt Ripley to an inexperienced owner. The more you know about the Cane Corso breed, the better.
That being said, we love her, which is why we are going to be very careful about her forever home.
Breed: Cane Corso/Labrador


Purebred: No
Additional Information: Up-to-date on shots
Have Questions?
Contact Us:
E-mail: dawgsquad@rocketmail.com
Phone: 310-674-0477
Dawg Squad Animal Rescue,
Los Angeles, CA