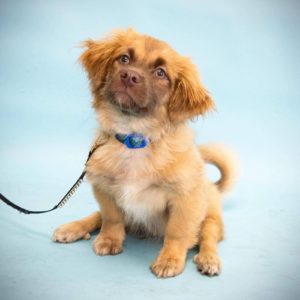 Full disclosure……we have NO idea what Quigley is except he is darn cute! But let me tell you his story.
In a nutshell, he was picked up as a stray by the Downey shelter. We have no idea how he strayed because his back legs are "fused" and he can't walk all that well. He's got a great wiggle walk! But stray? We don't think so
ANYWAY, he's 5 months old and 12 pounds. The orthopedist said his bones were not the issue, it was his muscles so Quigley is having daily massages and swim lessons to loosen up his leg muscles. He is never going to walk normal and will need a doggie wheelchair (currently on order)   But he gets around just fine in his own way and has no problems keeping up with his fellow Dawg Squad rescues
And his personality is what is going to get ya. He is bright and cheerful and great with other dogs and is one of the happiest pups ever! His therapists love him.
Come and meet him. You won't even notice he is "different"
Breed: Australian Shepherd Mix


Purebred: No

Sex: Male

Altered: Neutered upon adoption
Additional Information: Up-to-date on shots
Have Questions?
Contact Us:
E-mail: dawgsquad@rocketmail.com
Phone: 310-674-0477
Dawg Squad Animal Rescue,
Los Angeles, CA