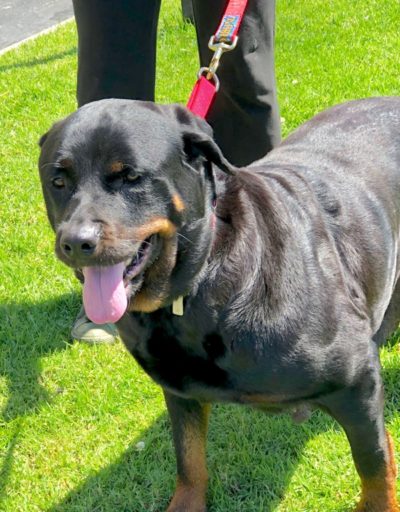 This is beautiful Ohana.
She is a 75 pound, 6yrs young mamma of a couple of litters; but no more!
She put her paws down and said "it's me time"!
Unfortunately she just got out of a bad relationship and finds herself a little broke right now and a bit insecure, so she's looking to split her rent with a non-smoking, large, mellow dog. Ohana is pretty tolerant otherwise, but she does hope her new roomie remembers to put the cap on the toothpaste (not a deal breaker, but she might nag you about it).
It would be great if the new home also came furnished with a nice person who can be patient with her minor insecurities, like climbing into the car. It takes more than a bit of coaxing, but she enjoys getting to her destination, she's just not sure of the seat climb thingy required to go for a ride.
Behavior: Very sweet

Good with children: Yes

Good with dogs: Yes

Additional Information: Up-to-date on shots
Have Questions?
Contact Us:
E-mail: dawgsquad@rocketmail.com
Phone: 310-674-0477
Dawg Squad Animal Rescue,
Los Angeles, CA