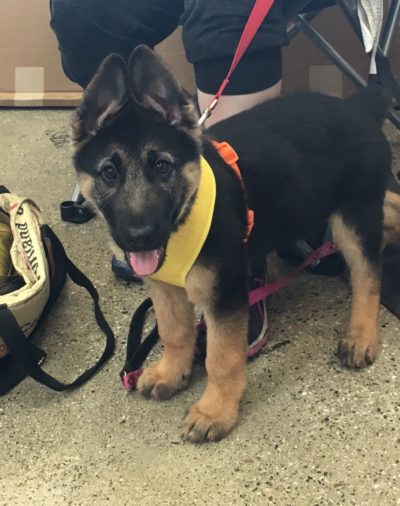 Luigi was a present for a wife who, after the pup urinated ONCE in the house, threw him in the backyard and wouldn't let him back in. I know…..you don't have to say it. Fortunately the husband knew someone who knew us and the rest is history. Luigi is in the Squad.
This is a smart, no brilliant, puppy. And with proper training he is going to be an absolutely brilliant adult dog. He will be able to accomplish anything you set his mind to.
He is also crazy busy all the time, running around, playing with other dogs, chewing on toys…..lots of energy in that (for now) little body. So he will need exercise as well as discipline to keep that energy focused in the right direction.
Luigi is housebroken and has had one set of shots. He will be neutered prior to adoption
Sex: Male

Altered: Neutered prior to adoption
Good with children: Yes

Good with dogs: Yes

Good with cats: We think so

Additional Information: Up-to-date on shots
Have Questions?
Contact Us:
E-mail: dawgsquad@rocketmail.com
Phone: 310-674-0477
Dawg Squad Animal Rescue,
Los Angeles, CA