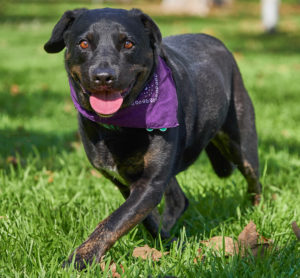 This little lowrider was on his last days at the South LA shelter.
Knowing how much we like shorties and black dogs, the volunteers asked if we could find a spot for LowBow and of course, we made room.
This little guy is not really sure about how people are going to treat him.   He can be very shy until he gains your trust so he is going to need a patient guardian.
It won't take long.   Look at the smile on his face in his picture.   He was sitting between two volunteers who were petting him and telling him how awesome he was and he was just beaming!
LowBow needs a quiet forever home without children.    He's a great size – only 56 pounds and very quiet.
Adopt him and watch him transform!
Breed: Labrador Retriever

Additional Breed: Bassett Hound

Sex: Male

Altered: Neutered

Color: Black and tan

Weight: 56 pounds

Age: 4 years
Behavior: Shy and quiet

Good with children: No

Good with dogs: Some

Good with cats: Yes

Special Needs: No

Additional Information: Up-to-date on shots
Have Questions?
Contact Us:
E-mail: dawgsquad@rocketmail.com
Phone: 310-674-0477
Dawg Squad Animal Rescue,
Los Angeles, CA