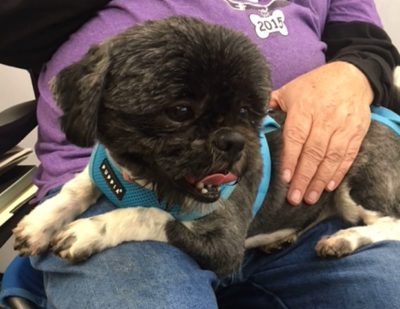 Holly was rescued from a horrific hoarding situation in the high desert in California.
After shaving 2 pounds of fur off this poor neglected little pup, we discovered a bright, alert, gorgeous Shih Tzu.
Holly doesn't hold a grudge against anyone.   She loves people, especially kids.   She is great with other dogs, housebroken, and is learning to walk on a leash.
For the first time in a long time, Holly is being treated like a dog should be treated.   And she is thriving in her foster home.   Now it's time for her to move on.
Adopt Holly and enjoy this little miracle every day
Altered: Spayed prior to adoption
Behavior: Very sweet

Good with children: Yes

Good with dogs: Yes

Good with cats: We think so

Additional Information: Up-to-date on shots
Have Questions?
Contact Us:
E-mail: dawgsquad@rocketmail.com
Phone: 310-674-0477
Dawg Squad Animal Rescue,
Los Angeles, CA