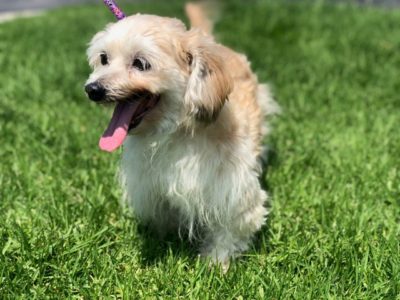 This bundle of happy was found waaaaaaaaaaaaay in the back of the medical unit at the South LA Shelter.  There was nothing wrong with her.   She was just there because the shelter was so crowded that she was put in the medical unit.    Harriet was thrilled….she had A/C.    The problem was, that no one knew she was there.
We found her and OH EM GEE she is just amazing.
Harriet is 8 years old, 9 pounds and has ONE tooth.   Yes….you read that right….ONE.    That does not stop her from chowing down and enjoying her meals.
Harriet gets along with most dogs and is wonderful with people.    She would like nothing more than a home with maybe one other dog, a nice comfy couch, a flat screen TV and yea….maybe a walk once or twice a day.
So come and meet Miss Harriet (as she likes to be called).   She will win you over with her good looks and charming personality.
Behavior: Very sweet

Good with children: Yes

Good with dogs: Yes

Good with cats: We think so

Additional Information: Up-to-date on shots
Have Questions?
Contact Us:
E-mail: dawgsquad@rocketmail.com
Phone: 310-674-0477
Dawg Squad Animal Rescue,
Los Angeles, CA