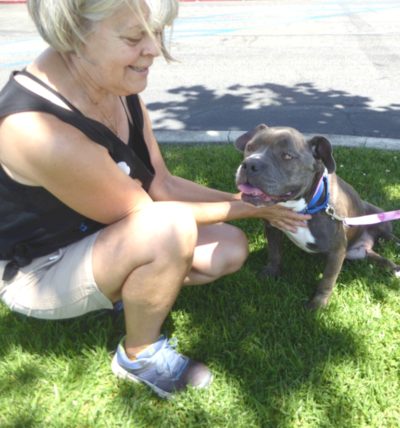 No you are not seeing things.    Dublin is cross-eyed and does have a condition known as masticatory muscle myositis.  (MMM) is an immune system disorder in which the dog's immune system identifies the dog's own muscle tissue as foreign and attacks it. The masticatory muscles are the muscles involved with chewing.
Dublin can chew and can swallow.   She just chews slowly and takes small bites.    Her mouth can only open about 2 inches.   Will it get worse?   No.   Could it have been prevented?   YES if someone had paid attention to her a couple of years ago.   BUT….water under the bridge….she is with us now and we will take care of her.
Dublin is bright, engaging, eager to please and an all around nice dog.   She does well with other dogs but we have not tested her with cats.   BUT with her condition, she may chase them but she won't be able to bite them so……She will be great with kids and will fit nicely into any home.
Her condition is not something that needs management.   She can eat, drink and is fine.    YOU just have to get past the "different" head shape.    And we know her personality will win you over.
Purebred: No

Altered: Spayed prior to adoption
Good with children: Yes

Good with dogs: Yes

Good with cats: Undetermined

Special Needs: Yes – see description

Additional Information: Up-to-date on shots
Have Questions?
Contact Us:
E-mail: dawgsquad@rocketmail.com
Phone: 310-674-0477
Dawg Squad Animal Rescue,
Los Angeles, CA