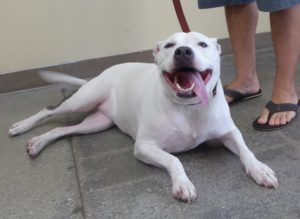 Hi there! You may recognize me. I was in Dawg Squad about 3 years ago and yes….sadly…I am back.
You see, my person fell on some hard times and he couldn't keep me anymore. I'm not mad at him or anything…..just a little sad that we can't live together. BUT my Dawg Squad fosters are cool
So, I like other dogs, I like eating A LOT (I need to lose 10 pounds), I like walks and car rides. I know where to go potty, when it's time to quit acting silly and go to sleep and I'm great on leash.
Why don't you fill out an application and we can get together? Maybe for a snack or something?
Breed: American Bulldog Mix

Purebred: No

Color: White with black spots
Good with children: Yes

Good with dogs: Yes

Additional Information: Up-to-date on shots
Have Questions?
Contact Us:
E-mail: dawgsquad@rocketmail.com
Phone: 310-674-0477
Dawg Squad Animal Rescue,
Los Angeles, CA