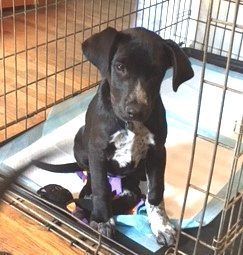 Boston is part of a litter of five Dobie mixes who were surrendered to Dawg Squad. We saw the "parents"…Mom is a Doberman Pinscher and Dad looked like a large black lab.
She is very shy but warms up pretty quickly. Boston needs someone with patience. This is a whole new world for her. These pups had obviously never been in a house before and things like a TV were absolutely fascinating and terrifying.
The puppies were not abused. They were just left in a back yard and not taught any social skills. They were not used to being handled and were pretty scared of us at first. Barcelona got over that pretty quickly and now can't wait for her foster Mom to sit down so she can climb up in her lap
This is going to be a BIG dog. She is 22 pounds at 4 months.
Purebred: No

Altered: Spayed prior to adoption
Good with children: Yes

Good with dogs: Yes

Additional Information: Up-to-date on shots
Have Questions?
Contact Us:
E-mail: dawgsquad@rocketmail.com
Phone: 310-674-0477
Dawg Squad Animal Rescue,
Los Angeles, CA